---
Features
These products are analytical systems compatible with ASTM E 1559 compliant tests (Standards of American Society for Testing and Materials), and are utilized for space materials evaluations.
Measurements can be made at extremely low temperatures (-196℃ to +125℃) and high vacuum (10-4Pa or less) suitable for space environments.
The desorption gas emitted from the sample can be measured with high accuracy with up to four sensor modules .
---
Measurement is possible without gasifying the measurement sample.
Without destroying the sample, it is possible to collect it as it is.
No sample size restrictions provides outgas measurement withthe final product state.
※The photo shows the sample loading in a small vacuum chamber.
---
Frequency fluctuations due to temperature changes can be cancelled with high accuracy and accurate measurements can be made.
Even if the temperature is varied from -190℃ to +125℃, the difference between the detection electrode and the standard electrode is within ±6ppm of the actual force.
・ Frequency fluctuation of each electrode is 800 ppm or more.
・ Within ±6ppm by taking the difference
・ Effect of temperature fluctuation 1/100 or less
---
The characteristic difference of the sensor module is small, and the syetem probvides high accuracy measurement.
Variations in desorption of the outgas adsorbed to the four sensor modules at the time of temperature rise are within ±1.5℃.
silicone rubber (RTV-S691)
---
Crystal part of the sensor can be replaced.
The crystal part of the sensor contaminated at outgas measurement must be replaced because it is a consumable part.
Customers can make the replacemen easily.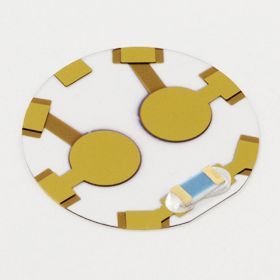 Replacement crystal
※On the other company's outgas sensors for QTGA method, customers can not replace crystal sensor and have to change sensor module into new one.
Running cost reduction for approx. 1/10