---
Features
The system does not need liquid nitrogen. The simple system provides you evaluation results, and is the best suited for material and environmental evaluations.
Running cost is just electricity cost only.
Measurement at low temperatures (-80℃ to +125℃) and high vacuum (10-4Pa or less).
There are two types, such as the most suitable type for evaluation in a large vacuum chamber that can measure the desorption gas emitted from a sample with up to four sensor modules, and the most suitable type for evaluation in a small vacuum chamber that measures with one sensor module.
---
Measurement is possible without gasifying the measurement sample.
Without destroying the sample, it is possible to collect it as it is.
No sample size restrictions provides outgas measurement withthe final product state.
※The photo shows the sample loading in a small vacuum chamber.
---
Outgas measurement can be performed in real time over a long period of time.
Measuring over a long period of time with up to four modules, it is possible to identify the outgas emission point and the time of occurrence.
The measurement interval can be selected from among 1, 10, 30, 60, 600, and 3600 seconds.
The measurement data is divided and saved every week.This can prevent the enlargement of the data.
Example of continuous measurement for two weeks
Week 1 data
2nd Week data
---
The sensor module can be cooled down to -80℃ or less depending on the heat radiation conditions.
By cooling the mounting part (heat dissipation surface) to -30°C, crystal oscillator can be cooled to -80°C or less.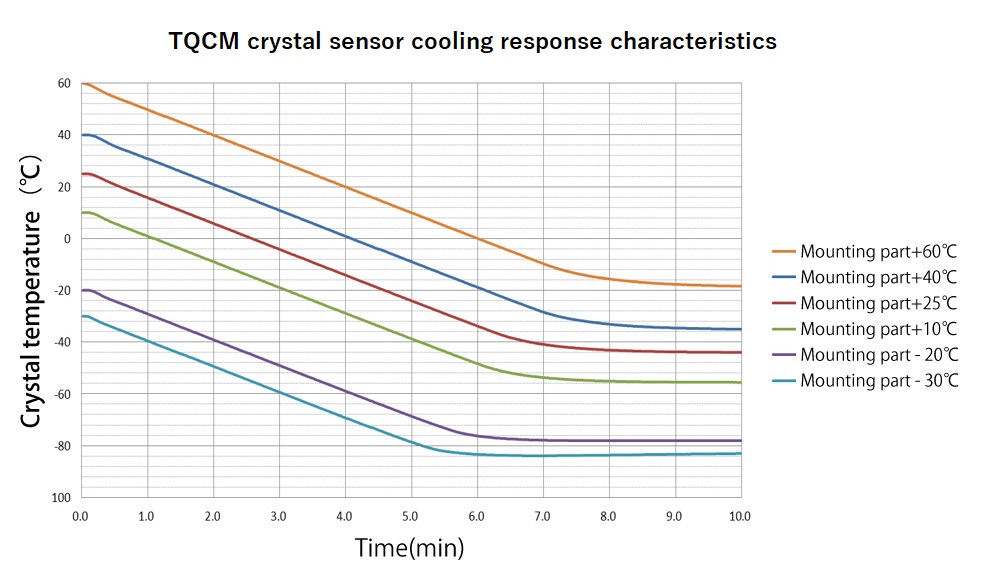 ---
【4ch Analysis system】
The sensor can be installed in a large vacuum chamber.
LVDS was selected as the power interface.
The sensor and sensing unit can be installed at a distance of up to 20m.
---
【1ch Analysis system】
The system is a reasonable price entry model that is best suited for evaluation in small vacuum chambers.
The number of the sensor modules to be connectesd is just one, and this is the best suited solution for environmental evaluation of small vacuum chambers.
Combination with a small vacuum chamber for material evaluation, this enables material analysis evaluation with an inexpensive configuration.
High repeatability of outgas desorption enables highly accurate and stable measurement.
Desorption wave form of adsorbed siloxane D8 amount
Desorption amount(Hz)
166
491
732
1,134
2,296
6,006
12,170
19,584
Average
σ
1Hz/sec
Desorption temperature(℃)
-13
-12.3
-13
-12.4
-12.4
-13
-11.8
-10.9
-12.4
0.73
付着量(Hz)
1Hz/sec
Desorption temperature(℃)
166
-13
491
-12.3
732
-13
1,134
-12.4
2,296
-12.4
6,006
-13
12,170
-11.8
19,584
-10.9
Average
-12.4
σ
0.73
---
Crystal part of the sensor can be replaced.
The crystal part of the sensor contaminated at outgas measurement must be replaced because it is a consumable part.
Customers can make the replacemen easily.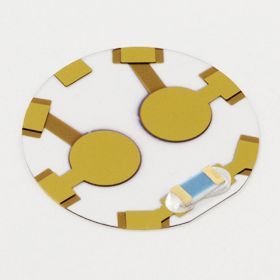 Replacement crystal
※On the other company's outgas sensors for QTGA method, customers can not replace crystal sensor and have to change sensor module into new one.
Running cost reduction for approx. 1/10
---
Customize is available
Widen opening angle of reaction electrode to expand supplementary range
Modify structure of the Sensor Module to adjust to the mounting part
Change length of cable and connector type to adjust to the vacuum chamber
Change the control specification and analysis function of the application software