NZ2016SHA (For Automotive Safety)
Features
High quality and high reliability design for Automotive safety
Supports a wide frequency range. (1.5 to 80MHz)
Supports a wide temperature range from –40 to +125°C.
Compact and light. Dimensions : 2.0 × 1.6 × 0.7 mm, weight : 0.01 g.
Low phase jitter (Typ. 100fs (Frequency Offset:12kHz to 20MHz)@80MHz, 3.3V)
Output Specification : CMOS
Taped units enable automatic mounting IR Reflow (lead free) is possible.
Lead-free.
Conforms to AEC-Q100/Q200.
Specifications
Specification Number
Please specify the model name, frequency, and specification number when you order products.
For further questions regarding specifications, please feel free to contact us.
Overall Frequency
Tolerance

Operating Temperature
Range
(°C)

Supply Voltage (V)

+1.8±0.18

+2.5±0.25

+3.0±0.3

+3.3±0.33

±100×10-6

-40 to +125

NSC5182A
NSC5182B
NSC5182C
NSC5182D

±50×10-6

-40 ~ +105

NSC5295A
NSC5295B
NSC5295C
NSC5295D

±50×10-6

-40 ~ +85

NSC5296A
NSC5296B
NSC5296C
NSC5296D
Dimensions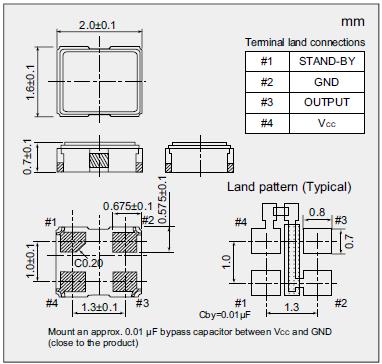 Output Waveform