NT2520SB (for Mobile Communications)
Features
Supports low power supply voltage. (Supports DC +1.7V to +3.3 V. Standard specification : +1.8V and +2.8V)
Compact and light with a height, cubic volume, and weight of Max. 0.9 mm, 0.004 cm3, and 0.014 g, respectively.
With an AFC (Automatic Frequency Control) function.
Low power consumption.
A surface-mount crystal oscillator. (Reflow soldering is possible.)
Lead-free. Meets the requirements for re-flow profiling using lead-free solder.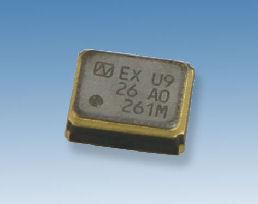 Specifications
Specification Number
Please specify the model name, frequency, and specification number when you order products.
For further questions regarding specifications, please feel free to contact us.
Nominal Frequency (MHz)

Supply Voltage

+1.8V

+2.8V

16.368

NSA3638A
NSA3637A

16.369

NSA3638A
NSA3637A

19.2

NSA3638A
NSA3637A

26

NSA3638B
NSA3637B

33.6

NSA3638B
NSA3637B

38.4

NSA3638C
NSA3637C

52

NSA3638D
NSA3637D
Dimensions