NZ2016SF (Ultralow Power Type)
Features
Ultralow power-driven (Min. +0.8V) crystal clock oscillator, ideal for mobile devices.
Ultra compact and light. Dimensions : 2.0×1.6×0.7 mm, weight : 0.01g.
Wide frequency range: 1.5 to 50 MHz.
Taped units enable automatic mounting and IR Reflow (lead free) is possible.
Lead-free.
Specifications
Specification Number
Please specify the model name, frequency, and specification number when you order products.
For further questions regarding specifications, please feel free to contact us.
Overall Frequency
Tolerance

Operating Temperature
Range
(°C)

Supply Voltage (V)

+0.9±0.1

+1.2±0.1

+1.5±0.1

±50×10-6

-40 to +85

NSA3480E
NSA3481E
NSA3482E

±30×10-6

-10 to +70

NSA3480C
NSA3481C
NSA3482C
Dimensions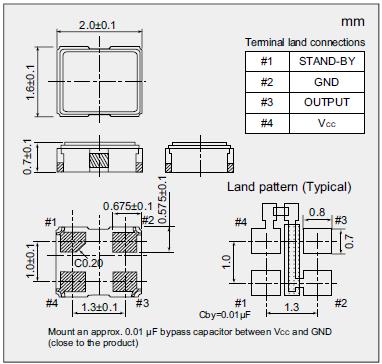 Output Waveform