NZ2520SDA (Ultra Low Phase Noise Type)
Features
Ultra low phase noise make this product ideal for High quality audio
Compact and light. Dimensions : 2.5 × 2.0 × 0.9 mm, weight : 0.02 g.
Wide frequency range: 20 to 50 MHz.
Ultra low phase jitter (Typ. 43fs (Frequency Offset:12kHz to 20MHz)@49.152MHz, 3.3V)
Automatic mounting by taping and IR reflow (lead-free) are possible.
Lead-free.
Specifications
Phase Noise Characteristics
F=22.5792MHz

F=49.152MHz

+1.8V, +25°C
Fout±1kHz (Typ.)

(dBc/Hz)

-158
-152
Fout±100kHz (Typ.)
-163
-164
+3.3V, +25°C
Fout±1kHz (Typ.)
-164
-158
Fout±100kHz (Typ.)
-169
-172
Specification Number
Please specify the model name, frequency, and specification number when you order products.
For further questions regarding specifications, please feel free to contact us.
Overall Frequency
Tolerance

Operating Temperature
Range
(°C)

Supply Voltage (V)

+1.8±0.18

+2.5±0.25

+3.0±0.30

+3.3±0.33

±50×10-6

-40 to +85

NSC5083A
NSC5083B
NSC5083C
NSC5083D
Dimensions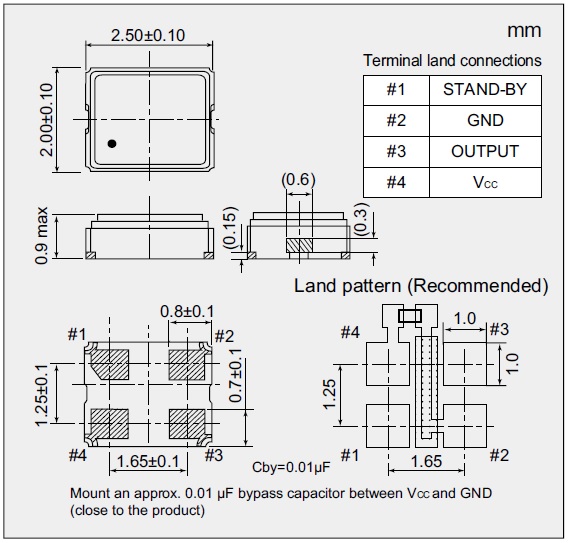 Output Waveform