NZ2016SHB (Low Current Consumption Type)
Features
Supports a wide temperature range from -40 to +125°C.
Ultra compact and light. Dimensions : 2.0×1.6×0.7 mm, weight : 0.01 g.
Quick oscillation start up time is available compared to our Tuning Fork Crystal.
Conforms to AEC-Q200.
Specifications
Specification Number
Please specify the model name, frequency, and specification number when you order products.
For further questions regarding specifications, please feel free to contact us.
Overall Frequency
Tolerance

Operating Temperature
Range
(°C)

Supply Voltage (V)

+1.8±0.18

+2.5±0.25

+3.0±0.3

+3.3±0.33

±100×10-6

-40 to +125

NSC5132A
NSC5132B
NSC5132C
NSC5132D

±50×10-6

-40 to +105

NSC5133A
NSC5133B
NSC5133C
NSC5133D

±30×10-6

-40 to +85

NSC5134A
NSC5134B
NSC5134C
NSC5134D
Dimensions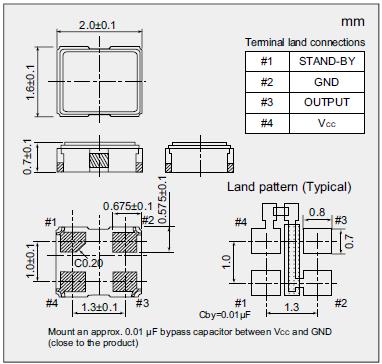 Output Waveform