NP3225SA (for Fixed Communication)
Features
Differential Output SPXO
Compact dimension : 3.2×2.5×0.9mm.
Supply voltage : +2.5V or +3.3V.
Output Specification : LVPECL
Excellent low phase jitter. (Typ. 90fs @156.25MHz)
Conforms to AEC-Q200.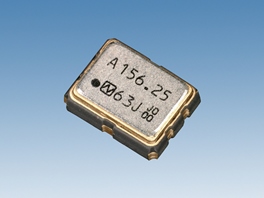 Specifications
Specification Number
Please specify the model name, frequency, and specification number when you order products.
For further questions regarding specifications, please feel free to contact us.
Please note that the "specification number" posted is subject to change.
Nominal Frequency : 100 to 175MHz
Operating Temperature Range
(°C)

Supply Voltage (V)

+2.5±5 %

+3.3±10 %

-40 to +85

NSC5080A
NSC5341B

-40 to +105

NSC5189A
NSC5342B
Nominal Frequency : 175 to 220MHz
Operating Temperature Range
(°C)

Supply Voltage (V)

+2.5±5 %

+3.3±10 %

-40 to +85

NSC5235A
NSC5235B

-40 to +105

NSC5237A
NSC5237B
Dimensions
Output Waveform