NZ2520SHA (For Automotive Safety)
Features
High quality and high reliability design for Automotive safety
Supports a wide frequency range. (1.5 to 125MHz)
Supports a wide temperature range from –40 to +125°C.
Compact and light. Dimensions : 2.5 × 2.0 × 0.9 mm, weight : 0.02 g.
Low phase jitter (Typ. 90fs (Frequency Offset:12kHz to 20MHz)@125MHz, 3.3V)
Output Specification : CMOS
Taped units enable automatic mounting IR Reflow (lead free) is possible.
Lead-free.
Conforms to AEC-Q100/Q200.
Specifications
Specification Number
Please specify the model name, frequency, and specification number when you order products.
For further questions regarding specifications, please feel free to contact us.
Nominal Frequency Range : 1.5 ≤ F ≤ 80MHz
Overall Frequency
Tolerance

Operating Temperature
Range
(°C)

Supply Voltage (V)

+1.8±0.18

+2.5±0.25

+3.0±0.3

+3.3±0.33

±100×10-6

-40 to +125

NSC5072A
NSC5072B
NSC5072C
NSC5072D

±50×10-6

-40 ~ +105

NSC5218A
NSC5218B
NSC5218C
NSC5218D

±50×10-6

-40 ~ +85

NSC5219A
NSC5219B
NSC5219C
NSC5219D
Nominal Frequency Range : 80 < F ≤ 125MHz
Overall Frequency
Tolerance

Operating Temperature
Range
(°C)

Supply Voltage (V)

+1.8±0.10

+2.5±0.25

+3.0±0.3

+3.3±0.33

±100×10-6

-40 to +125

NSC5166A
NSC5166B
NSC5166C
NSC5166D

±50×10-6

-40 ~ +105

NSC5220A
NSC5220B
NSC5220C
NSC5220D

±50×10-6

-40 ~ +85

NSC5221A
NSC5221B
NSC5221C
NSC5221D
Dimensions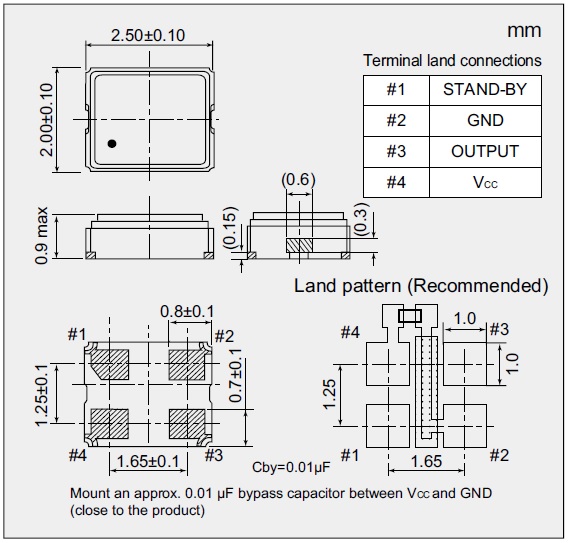 Output Waveform